COM.* 2014 Leading-Edge Tech Shows
U.S. DOT-FHWA Tech Show and Lab Tours
MIT Driverless Car Tech Show
COMStar OfficeMap Tech Show
---
U.S. DOT-FHWA Tech Talks, Demo Shows, Lab Tours, and Test Drives (Half a Day)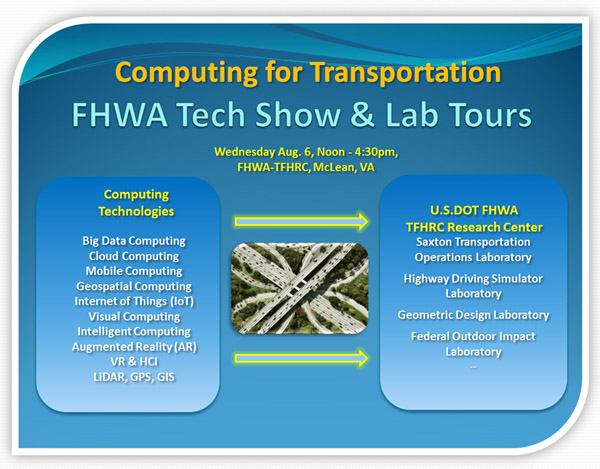 FHWA Intelligent Transportation Systems
Connected Vehicles / Vehicle-to-Infrastructure (V2I)
Big Data Computing in Transportation
Human Center Systems, Highway Driving Simulator (HDS)
Transportation Safety, Geometric Design, Crash Analysis and Simulation
Transportation GIS/GPS/LiDAR
Image courtesy of USDOT keynote speaker Mr. Tim Schmidt and FHWA internet resources
The FHWA Tech Talks, Demo Shows, Lab tours, and Test Drives will take place at Federal Highway Administration (FHWA) Turner-Fairbank Highway Research Center (TFHRC) on Wednesday afternoon Aug. 6, 2014. For more details, please see the COM.* 2014 program.
The TFHRC is the Nation's premier federally owned and operated highway research and development facility. Located in McLean, VA as the research center for the FHWA, TFHRC coordinates and conducts an ambitious program of innovative highway research and development to address critical needs of the national highway system.
On July 15, 2014, U.S. President Obama visited FHWA-TFHRC and tested a self-driving car at a simulator of Highway Driving Simulator (HDS) Lab, then gave a speech on "the Importance of Our Nation's Infrastructure". The news was reported by the Whilte House, U.S. Department Transportation, The Washington Post, and FHWA, respectively.
For more details for the FHWA-TFHRC visit, please click here.
MIT Driverless Vehicle Tech Show

The Intelligent Co-Pilot: a Path toward Fully Autonomous Vehicles
This work demonstrates the "Intelligent Co-Pilot," a practical, near-term pathway to autonomous vehicle development. In this framework, the human driver and the autonomous control system share control authority, with the autonomous system generally only assuming control when the threat of an accident is significant. The system could also be tuned, however, to provide a greater degree of assistance. Such a system represents an attempt to reap the safety benefits of full autonomy, while ensuring that the operator remains attentive and responsible for high level decisions.
The Future with Self-Driving Cars
This work demonstrates work at SMART, the Singapore-MIT Alliance for Research and Technology, focused on development and testing of a new mobility-on-demand paradigm. This work, led by Professor Emilio Frazzoli of MIT, consists of a fleet of fully autonomous vehicles that can be summoned via smartphone by users to take them to a desired destination. The vehicles respond rapidly due to state-of-the-art backend software that positions the vehicles based on analysis of historical demand data. Analysis of transport data by the SMART researchers have shown that all of Singapore could be effectively served by such a mobility-on-demand paradigm, even while substantially reducing the overall number of vehicles on the road.
COMStar OfficeMap Tech Show
Save Time and Achieve the Best Map Results with OfficeMap for MS Office!
COMStar OfficeMap is the latest Microsoft PowerPoint Add-in. It provides a fast and easy way to directly create various kinds of maps on PowerPoint slides. OfficeMap offers many map templates. The map templates for MS Office is an impressive collection of dozens of categorized maps with appropriate projections for PowerPoint slides. They include world maps, continental maps, country maps, US state maps, and US county maps. All boundary maps and some satilliate maps are provided. OfficeMap offers three different symbol collections for simple symbols, color ramp symbols, and point symbols (i.e., markers, icons, and fonts). The maps created by OfficeMap are composed of PowerPoint shapes, texts, and pictures. All of operations for texts and illustrations in PowerPoint can be directly employed to those maps within PowerPoint. OfficeMap provides a friendly and powerful graphics user interface for users to easily insert the maps, select the symbols for the maps, and set the features for map shapes, texts, and pictures.